Abbey Island is a tidal island separated from Derryname beacch by a small inlet. Most time its passable except at high tide. The ancient church ruins and grave yard date back to the 16th century, and give a wonderful panoramic view of the derrynane house and beaches.
The graveyard is still in use today, and provides a very interesting insight into the families and family names in the area.
When visiting, please respect that this is the burial ground, of the loved ones of people and families from the area.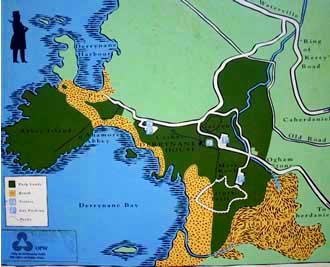 ,
Island map